Hello everyone,
We are still getting lots of rain here but it is warmer then usual so most of us are not complaining. I have not done a White Wednesday for awhile but I am joining in today. A couple of days ago my husband and I did a little work on the little cottage. We put some insulation in and put some pine boards on horizontally over the studs. I wanted to give it a more finished look behind the mantel and the small electric stove.They had a sale on the pine boards at Home Depot so we got started. It didn't take long so I slapped a wash of paint on and then we put the old mantel back on with the mirror over it.
I lit lots of candles for a warm cosy look.
As many of you know this is the other side of the cottage that you saw in yesterdays post.
There is a couple of white chairs to sit by the fire-sadly not much heat but we can use our imaginations.
I love this wooden angel from a tjmaxx store a few years ago on a trip to Maine.
A little white angel lamp from a yard sale.
A pair of white skates on an old white chippy chair that was $2, and my husband thought I overpaid!
I wonder what little angel left her white feather wings and skates behind?
Ah! there she is it's our own little granddaughter Jessie!
She looks angelic with or without the wings!
I would like to let you know that I have started my new blog called Christmas Past & Present and the link is on the right top side of this blog if you would like to check it out. I am sharing photos from previous years right now but will soon have new pics to share. If you have time please check it out and give me some suggestions if you have any- I am always happy to get some new ideas!
I am joining Kathleen at
Faded Charm
for her lovely White Wednesday.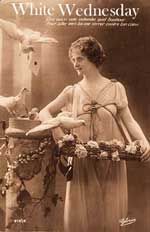 There is always lots of lovely whites to see there!
Thank you for visiting
&
Have a great day!
Carolyn